Have you been noticing any changes in your urine colour? This is a common occurrence for many pregnant women, so there's no need to worry. However, it's essential to understand why your urine may change colour during pregnancy and what it means for your health. In this post, we'll discuss the various colours of urine in early pregnancy, including yellow urine, and provide you with some tips for maintaining a healthy urinary system throughout your pregnancy.
Pregnant? Check Your Urine!
As a pregnant woman, you must be careful when it comes to your health. And one way to keep yourself in check is by monitoring your urine. Your urine can say a lot about your health, so it's essential to keep an eye out for any changes in colour or frequency of urination.
Did you know that pregnant women may experience a change in urine colour? If you notice a darker than usual shade of yellow during early pregnancy, it's quite normal. However, certain other colours of urine may indicate some problems that need to be addressed immediately.
Yellow Urine During Pregnancy
The colour of your urine depends on several different factors, including the level of hydration and the concentration of waste products. When you're pregnant, your body undergoes many changes, including an increased load on your kidneys. As a result, you may find that your urine becomes darker than usual. In most cases, this is nothing to worry about, but it's essential to stay hydrated to keep your urine colour healthy.
One of the best ways to ensure that your urine remains at a healthy colour is to drink enough water regularly. And by "enough water," we mean at least eight glasses per day. Water helps to encourage the flow of urine and flush out any impurities in your system. Additionally, it helps your body to stay hydrated, which is essential for healthy skin, digestion, and circulation.
Don't Ignore The Colour Of Your Urine
It's always a good idea to keep track of your urine colour as a pregnant woman. If you notice that your urine has turned bright yellow or dark yellow, it's essential to stay hydrated immediately. If you feel that your urine seldom changes colour or becomes too dark, always consult your Obstetrician-Gynecologist to ensure your pregnancy's safe progress.
In conclusion, your urine colour may change during early pregnancy, so it's essential to take care of your body and stay hydrated. If you ever feel worried that your urine's colour seems off, don't hesitate to contact your OBGYN for their opinion.
Conclusion
It's important to put your health first as a pregnant woman, and keeping an eye on your urine may be a great way to keep yourself healthy. While yellow urine during pregnancy is normal, an unusual shade accompanied by pain or discomfort is certainly not. Always consult your doctor if you feel that something may be wrong, as early detection can lead to a healthier and more comfortable pregnancy.
The Recipe
Here's a recipe to ensure you remain hydrated throughout your pregnancy and keep your urine at a healthy yellow colour:
Ingredients:
8-10 glasses of water per day
Fruits and vegetables that contain high amounts of water like watermelon, cucumber, and strawberries
Instructions:
Drink 8-10 glasses of water per day
Snack on watermelon, cucumber, or strawberries to help increase your fluid intake
Remember, prevention is always better than cure. So, maintain healthy habits throughout your pregnancy to stay healthy and happy.
If you are searching about What The Color of Your Urine Says About Your Health – Small Joys you've came to the right web. We have 5 Pics about What The Color of Your Urine Says About Your Health – Small Joys like Pin on 임신출산, Know what urine colour indicates | Color of urine, Serious illness, Color and also Yellow Urine During Pregnancy. Here it is:
What The Color Of Your Urine Says About Your Health – Small Joys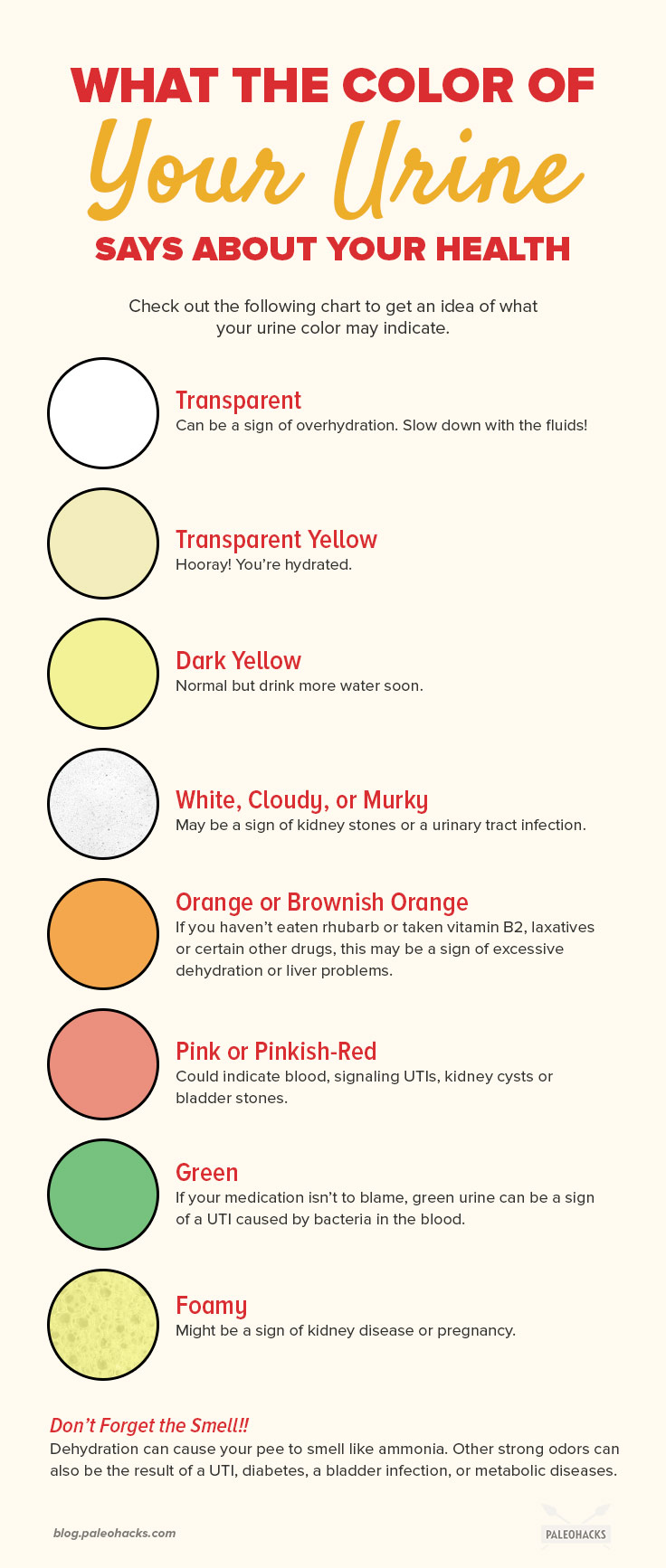 new.smalljoys.tv
urine pee paleohacks kidney dehydration indicates advertisement
Pregnant Colour Of Urine In Early Pregnancy – Pregnancy Test
pregnancytestbeb.blogspot.com
urine color pregnant pregnancy colour early test
Pin On 임신출산
www.pinterest.com
Yellow Urine During Pregnancy
www.thepregnancyzone.com
urine yellow pregnancy during color colour does normal bright reveals condition reasons dark lovetoknow why darker specimen should health little
Know What Urine Colour Indicates | Color Of Urine, Serious Illness, Color
www.pinterest.com
urine
Yellow urine during pregnancy. Know what urine colour indicates. Urine color pregnant pregnancy colour early test