Oh boy, do we have a real itch-situation on our hands here, folks! And I don't just mean those pesky mosquitoes buzzing around your ears on a warm summer evening. I'm talking about the kind of itching that can drive you absolutely bonkers – itchy breasts and bellies during pregnancy. Yikes!
Itchy Breasts but No Rash
Let's start with the issue of those itchy breasts, shall we? Don't worry, ladies, you're not alone in this – there are plenty of reasons why your chest might be feeling extra sensitive lately. Here are a few possible culprits:
Your bra might be too tight or made from a material that irritates your skin. Try switching up your undergarments and see if that makes a difference.
You might be having an allergic reaction to something, like a new laundry detergent or body lotion. Consider going product-free for a while to see if the itching subsides.
Believe it or not, stress and anxiety can cause physical symptoms like itching. Try to find ways to relax and de-stress, whether it's through meditation, exercise, or spending time with loved ones.
Itching During Pregnancy
Now onto the even more uncomfortable topic of itching during pregnancy. Not that being pregnant isn't uncomfortable enough already, am I right?
But seriously, if you're dealing with persistent itching on your belly or other parts of your body during pregnancy, it's important to get to the root of the issue. Here are a few possibilities:
PUPPP (Pruritic Urticarial Papules and Plaques of Pregnancy), a skin condition that typically arises in the third trimester and causes a rash and intense itching on the belly, arms, and legs.
Cholestasis, a liver condition that causes bile to build up and can result in itching on the palms of the hands and soles of the feet.
Dry skin, which can become exacerbated during pregnancy due to changes in hormones and an increase in blood flow. Moisturize your skin frequently and consider using a humidifier in your home.
No matter what the reason behind your itching may be, it's important to seek medical advice if the symptom persists or becomes unbearable. Your ob-gyn or dermatologist can recommend products and treatments that are safe for pregnant women and can help alleviate the discomfort.
Coping with Itching
In the meantime, there are plenty of things you can do to help soothe your skin and reduce the urge to scratch like a crazed animal:
Avoid scratching! As tempting as it may be, scratching will only make the itching worse and can even lead to infection.
Take cool (not hot!) showers and baths, and use gentle, fragrance-free soaps and lotions.
Use a cold compress or ice pack on the affected area for a few minutes at a time to help reduce inflammation and itching.
Avoid tight-fitting clothing, as it can irritate the skin and make itching worse.
Try over-the-counter creams and ointments like hydrocortisone or calamine lotion.
Remember, it's all going to be worth it in the end when you're holding that sweet little bundle of joy in your arms. Just a few more months to go, mama!
If you are searching about Itchy Breasts and Other Early Signs of Pregnancy – WeHaveKids – Family you've visit to the right web. We have 5 Pictures about Itchy Breasts and Other Early Signs of Pregnancy – WeHaveKids – Family like Itchy Breasts and Other Early Signs of Pregnancy – WeHaveKids – Family, Pin on Health and fitness and also Itchy breasts but no rash: 5 causes. Read more:
Itchy Breasts And Other Early Signs Of Pregnancy – WeHaveKids – Family
wehavekids.com
sore itchy swollen feels pms symptom cramping experiencing however wehavekids swell
Itchy Breast: The Causes Of Itchy Boobs And What You Need To Know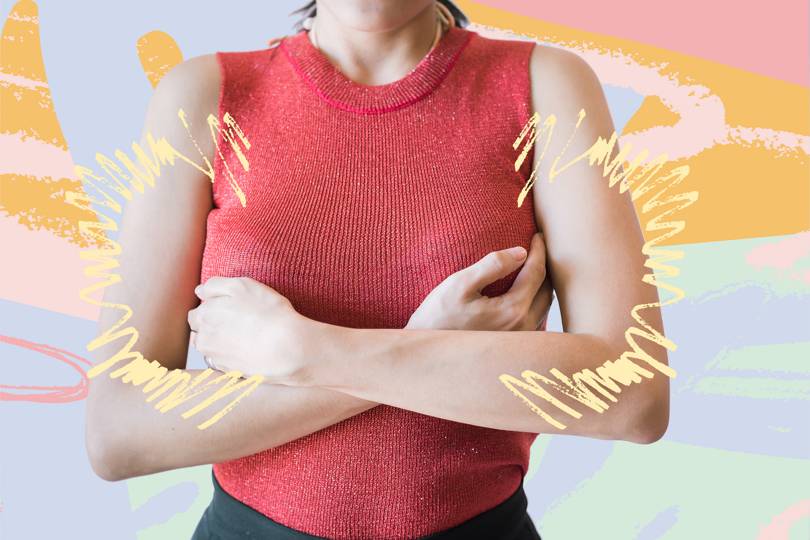 www.glamourmagazine.co.uk
itchy breast
Itchy Breasts But No Rash: 5 Causes
www.medicalnewstoday.com
breasts itchy rash
Pin On Health And Fitness
www.pinterest.fr
breast itchy imaging thermal rash positivehealthwellness itching menopause chermside west
Itching During Pregnancy: Causes And Treatment
www.thebump.com
itchy itching puppp hamil kenali gatal ctfassets yuk dry orami
Breast itchy imaging thermal rash positivehealthwellness itching menopause chermside west. Itching during pregnancy: causes and treatment. Itchy breasts but no rash: 5 causes